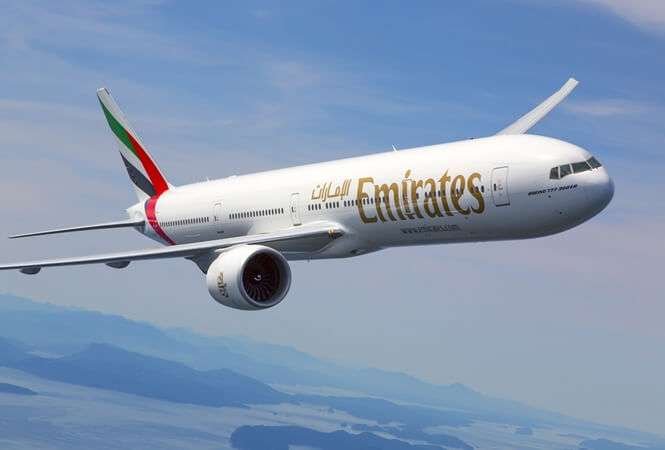 Emirates Airlines Flight Booking
Emirates Airlines (EK), is the largest in UAE and Middle East and the fourth-largest airline in the world in terms of fleet and network. One of the recent entrants in Aviation, the national airline of the Emirates flights booking started operating in 1985 and has Dubai has its hub.
Emirates Airline currently flies to over 12 cities in US as of 2021 and offers Airbus and Boeing wide-body aircrafts. As recently as 2019, Emirates was the largest customer for Airbus A380 and offered A380 on most of its long haul network flights.
Post Covid outbreak in early 2020, Emirates cheap flights booking was among one of the first few airlines to transform its operations using state of the art technology out of its hub at Dubai (DXB airport) to offer traveller a consciously designed safe & hygienically driven environment not only on ground but also on its flights.
Emirates offers great onboard service, smartly priced Economy, Premium Economy, Business and First Class fares on its network. The Emirates limousine service for Business & First Class passengers is not only available in DXB but across its network at almost all the cities (Terms and Conditions apply). When you book Emirates flights either at www.emirates.com or via Prime Air Global Corp offices across the globe, you are assured of quality services, great travel experience and 24×7 support.
As is the standard practice, the Emirates airline website offers user friendly interface and has a quick shopping experience with options to book one way or round trip journey out of USA or Canada and across its network. Call the airline or any of its authorised travel partners to offer you great deals and saver fares on international travel, be it Coach travel or Business & First class travel.
Emirates A380
Emirates has customized its A380 fleet to offer you fully-enclosed suites on the aircraft or go in for spacious business class seats with International Cuisine and Mini bar on each seat. You can opt in for Private First Class Suites and enjoy Shower while flying at altitude of 38000 Ft! or the flat bed and personal dining experience at any of the First class suites.
For the last minute or planned upgrades against your loyalty card on EK, the airline offers great option of using its frequent flier program Skyward Miles and you can use them to upgrade to the next class of travel. Passenger has the option to sign up for automatic upgrades and will be notified by the airline as and when desired cabin becomes available for upgrade on EK. Apart from Skyward Miles, one can also pay and go in for upgrades.
Emirates Boeing 777
Emirates Boeing 777 is not behind A380 on EK fleet! The airline went in for upgrading its First Class Cabins. The EK flights offer consistent level of service and privacy on any of its wide body fleet on the network, with luxurious seats, chauffeur drives, gourmet international cuisine and an on-board experience that has won accolades.
So whether its EK lounge at their airport or On-board lounge/cum bar on its wide body aircrafts, On-board WiFi, Chauffeur driven limousine service for premium cabins, or Regional/International gourmet cuisine on Emirates Flights Booking or world famous onboard service by international crew – the experience of travel touches new heights when you choose to fly Emirates.
It is evident that most of the major carriers have high call volumes on their customer support numbers, hence the wait or call hold can last hours. If you have bought your ticket from airline and do not want to waste hours on the phone for any schedule change, seat assignment, rebooking or rerouting or facing technical issues on their website – you may call Prime Travels agents who are standing by for your call on +1.646.862.1010. We levy a service fee for any service that we offer on travel, and same will be advised to you.
Please note that Prime Air Global acts as a facilitator of travel by using 3rd party services. Which is provided by airlines, hotels and car rental companies. Prime Air Global does not own or manage the travel inventory we sell. And nor do we claim to be an airline(s), hotel(s), or car service provider. The brand names of different service providers used are only for expressive purposes. And we do not imply or intend to imply any involvement with any airline/hotel or travel supplier organization.